Onsen at Izu Peninsula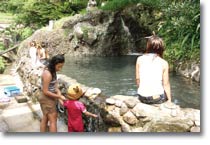 Izu Peninsula is the land of Onsen. Almost all of the towns have Onsen and its entertainments. Izu is very convenient place because it is not far from Tokyo, especially eastern Izu is one train access from Tokyo. Because all of the cities have fish markets, you can enjoy great Onsen with fresh Sashimi and Sushi.

Atami
Get the Flash Player
to see this video.

Travel Information
Great Onsen Town Near Tokyo
Atami (熱海) is Onsen City located in Izu peninsula, Shizuoka. Because there is the Shinkansen Station, it is very good access from Tokyo. It takes only 40 min. from Tokyo. There are many onsen hotels, restaurants which serve great sea food such as Sushi and Sashimi, and gift shop. Also, another great feature of Atami is Baien, a garden with Japanese Plum. During the winter, from January to March, there are beautiful Plum flowers are blooming.

Tourist Info.
Bairin is free, and it has free foot onsen.

Access
0. at Mishima station
1. use JR Tokaido Line to Atami (13 min.)

The contents of this feature